MEDIUM BEIGE 9 PIECE FOUNDATION SET WITH KABUKI BRUSH
Description
9 Piece Mineral Foundation Set with full size starter kabuki brush in MEDIUM BEIGE
We are still listing shades, if you would like a set in any other shade please add a message to your order on paypal, (please remember to press save)

Excellent coverage
Covers imperfections but looks naturally flawless and lasts all day
You can have any shade foundation with this set, choose one from the list - if you wish to change shade again please put a message on payment. I can change any of the minerals in the small jars for other foundation shades or other minerals if requested, please ask if unsure before bidding.
"love this make up it feels like im not wearing any but gives great coverage" (8th Oct 2010)
"Fantastic product, as good as my usual but half the price, will use again" (9th Oct 2010)
Read what our buyers say about our minerals after the description
The set includes
1 x 30g sifter jar (8g powder weight approx-powder packed up to the sifter) Pure Magic Minerals Medium Beige Full Coverage Foundation
1 x 5g sifter jar of pure mineral veil, applied over foundation to set your makeup and give you that sheer flawless airbrushed look.
1 x 5g sifter jar of multi tasking concealer for extra camouflage, apply before foundation to make marks and spots fade away.
1 x 5g sifter jar yellow concealer, apply to the under eye area to lighten the skin; lifts and brightens the face and makes you look younger and wide awake.
1 x 5g sifter jar of our earthy toned blush/warmth to give your face a natural healthy look.
1 x 5g sifter jar of pearl veil. Apply all over the face instead of our pure mineral veil for a dewey, light reflecting shimmery look, great for nights or days out. Pearl veil can also be used as a highlighter on brows, cheekbones, decolletage.
1 x 5g sifter jar of our magic oil control powder.. Use before and/or after applying foundation. Can be reapplied throughout the day as needed without makeup looking 'cakey' Great for those with oily skin and also for those that want a matte/shine free finish to their makeup
1 x 5g sifter jar of matte bronzer powder for under cheekbones.
(These jars contain 1g powder weight approx)
1 x baby kabuki, great for your handbag. Brush may vary from one pictured but will be a similar (or better) product.
1 x 1.5g darker foundation in small resealable bag to darken your foundation if needed.
Small samples of other similar foundation shades
Instruction sheet
******
Hi! just wanted to let you know that I tried your sample products for the first time today and they are wonderful! The medium beige is excactly my skin colour. Even my friends commented how good my skin looked and I have used mineral foundation for two years now but am now converted to your brand...much better than the expensive ones the coverage is amazing whilst looking so natural yet looks so great when I am on TV. Thank you, W. xxxxx
Hi there.
I know you must get e-mails like this all the time but I just want to say the HUGEST THANK YOU for your AMAZING product!!!

I have problem skin prone to spots and scars from spots when I was younger. I've tried many prducts over the years and have NEVER found coverage like this!! I'm 29 and have teenage breakouts which obviously I want to cover up but everything I've ever tried had has made it worse. I get married in 3 weeks time and have experienced a breakout through stress. The more I've stressed about my skin the worse its become and I was really starting to panic that wedding photo's would show this :( But I recieved the powder this morning and tried it straight away and I can honestly say that for me you've saved my wedding day in a way! I applied to one half of my face and showed my fiance and even he noticed straight away that I had one bag under one eye and inperfections on only the side I hadn't applied the product!! It is AMAZING!! So Thank you soooo much!! H x
Pure Magic foundation is great for those wanting to cover redness, scars and skin conditions such as acne or rosacea. It is also excellent for those just wanting a sheer natural looking foundation that covers imperfections and stays put all day long.
Try our excellent foundation at an affordable price. Our buyers say our foundation is as good if not better than many expensive leading brands. Please read their comments below. Our foundation gives excellent coverage, just apply as you do your regular mineral foundation, you will find you dont need to use as much to get the coverage you want.
I love it! Excellent fast delivery and smooth transaction, thankyou.

Buyer:

01-Feb-08 21:33

Sheer Mineral Foundation MEDIUM BEIGE Acne Cover 30g (#200190933059)

£8.99

View Item
thanks so much for fast delivery, its almost identical to a product i use now

Buyer:

01-Feb-08 18:23

Sheer Mineral makeup set in MEDIUM BEIGE / Cover Acne (#200188936498)

£14.99

View Item
Hi there!

I just wanted to say THANK YOU for the wonderful foundation i recently purchased from you!

I have just applied this amazing product and cannot explain just how amazed i am! I've never used a product that has given such wonderful results and i really am speechless! I have been using products such as C******* and B**** ***** for ages and being a sufferer of severe eczema i didnt do my skin any favours by using that tat! I cannot believe how much money i have wasted on their products!
Your magic foundation truly is magic and it does not dry my skin at all, i often found that the other brands ALWAYS excessively dried my skin out but your powders are just fantastic! no drying out of the skin, no peeling, no itching..just flawless coverage! It completely covers all my blemishes and i have finally found the makeup of my dreams!! Please don't ever stop selling this product, you are an absolute life saver and i just wanted to personally say thank you!
Sarah
Hi Carol!

Yes of course, you are more than welcome to use the email as a testimonial! I really am delighted with the foundation, i cannot recommend it highly enough (just wish the eBay feedback system would let me say more!!) and i can't wait to see the blushers and eyeshadows, i've added you to my favourites but would be eternally grateful if you could let me know when you have them up for sale or whenever you add something new! I am officially hooked! :)

I honestly cannot thank you enough for offering such a fantastic product and can give you my word i'll be back for more, and i'll never touch another brand EVER again!!

I wish you every success with the business, you most certainly deserve it!

All the best,

Sarah

Our foundations are:

Non irritating-do not contain Bismuth like many top brands

Anti-inflammatory-soothes inflamed skin

Water Resistant-wear at the gym, in hot, humid or wet weather

Help control excessive oil

Resistant to perspiration and water-no need to reapply just blot dry

Long lasting-no need to reapply like your normal foundation

Economical- a little goes a long way when applying

Does not block pores

Bacteria are unable to grow in these foundations as they can in normal foundations as they have no nutrients

Has a natural sun factor of 15 (anti aging)

Reduces the appearance of wrinkles

Covers even dark under eye circles

Cruelty free-no animal testing or ingredients
---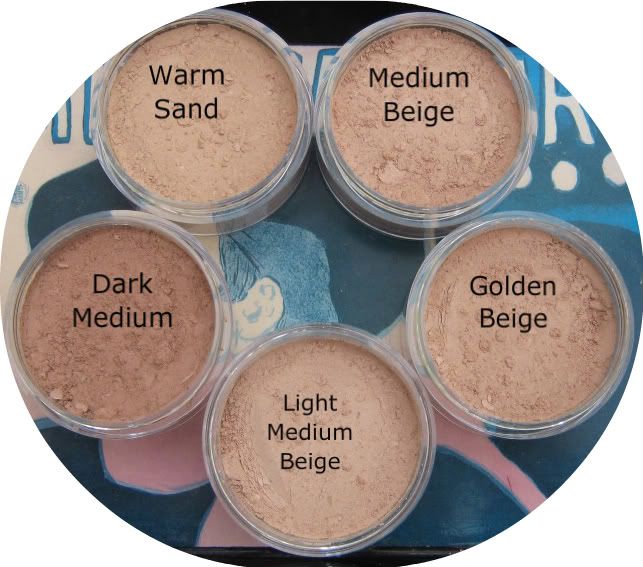 Image showing light medium/medium foundation shades
The photographs used in this listing are the copyrighted property of the seller and may not be copied without permission of the seller.